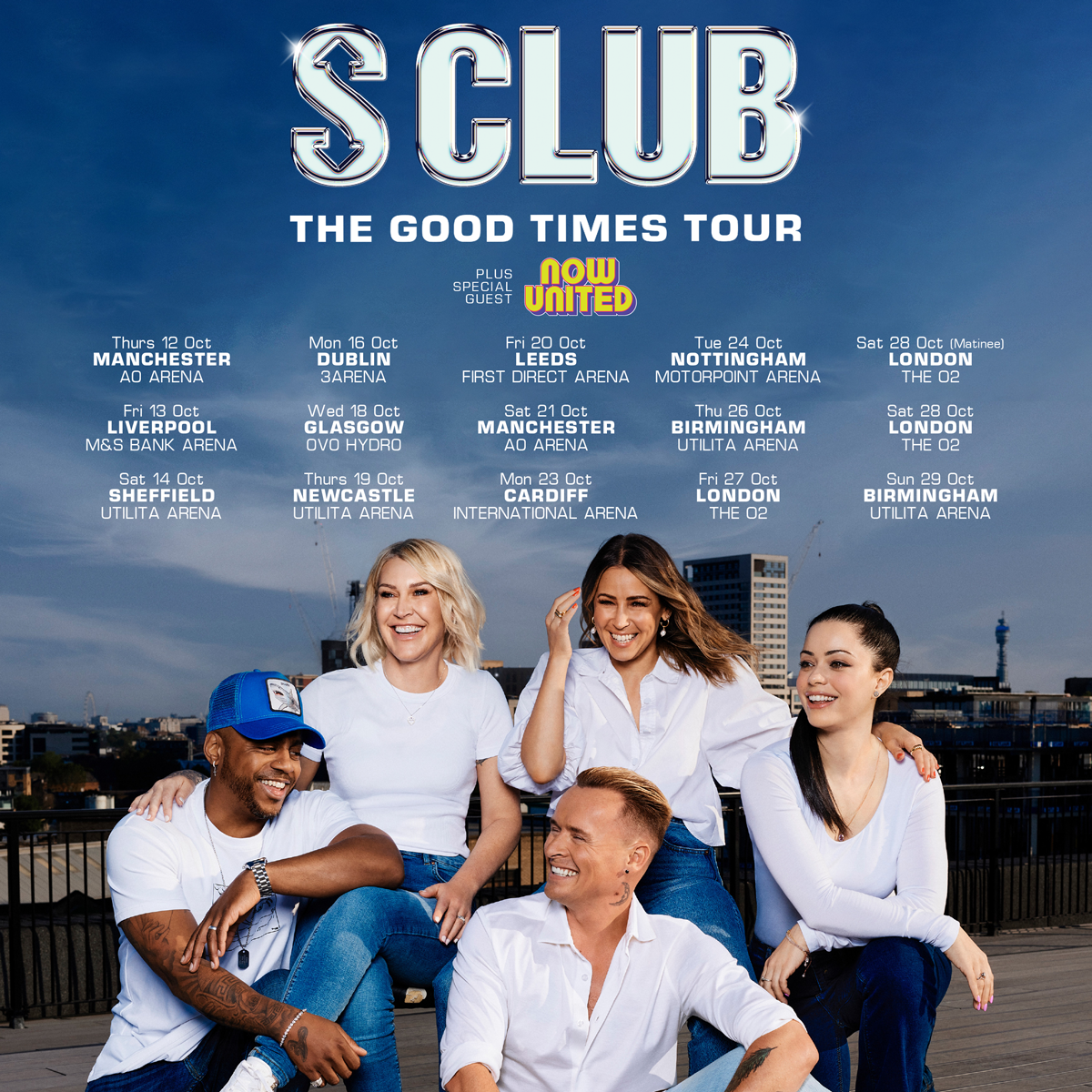 5:30pm Wed 18 October 2023
Event Information
OVO Live pre-sale from 10am Wednesday 15 February 2023
General on sale from 10am Friday 17 February 2023
Today, S Club celebrate their 25-year legacy with the release of their first new music in 20 years with new single 'These Are The Days', out the 26th July.  
Bradley, Jo, Jon, Rachel and Tina will release their first single in twenty years "These Are The Days", written by the band's original No.1 hit songwriting team of Cathy Dennis, Simon Ellis, Johanne Ellis and producer John Nathaniel. The track pays tribute to their former friend and beloved S Club member Paul Cattermole with a moving film story that ends with S Club revealed as the five piece pop act that they are today.  
The single is set to mark the British group's 25th anniversary and a 15 date UK arena tour planned for Autumn 2023 which has been renamed "S Club: The Good Times Tour" as a tribute to Paul by taking the name of an S Club song and a big fan favourite on which he sang lead vocals. Tickets are still available for select dates on the tour.  
Formed by Simon Fuller, the 25th anniversary tour is an opportunity for S Club fans of every generation to come together and re-experience the timeless pop hits that soundtracked the British charts for five years. Collectively, S Club amassed four UK number one singles with 'Bring It All Back', 'Never Had a Dream Come True', 'Don't Stop Movin', and 'Have You Ever', as well as the UK number one album '7'. They recorded 4 studio albums, released 11 singles that all entered the Top 5 UK charts, and went on to sell over 10 million albums worldwide.  
With 4 multi-platinum selling albums, 2 BRIT Awards, and 9 number-one international hit singles to their name, S Club is a household name that is once again ready to rise.  
'These Are The Days' is out on the 26th July via Universal Music UK as part of a brand new global partnership. Disclaimer: Please note that Level 3 is accessible by stairs only. Some areas of Level 2 and Level 3 may not be suitable for those with mobility difficulties, those who are not comfortable with heights or those who experience vertigo. We anticipate you should receive your tickets at least 21 days prior to the event you are attending. Thank you for your patience.
U14s with adult 18+