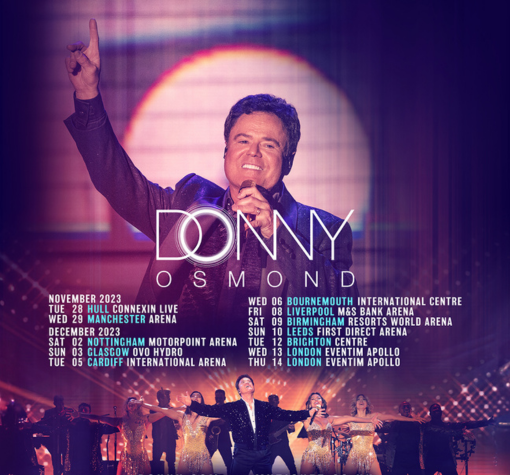 6:30pm Sun 3 December 2023
Event Information
OVO Live pre-sale access from 10am Tuesday 21 February 
General on sale from 10am Thursday 23 February
Legendary music star Donny Osmond has announced his first UK tour in six years. The pop superstar will be bringing his electrifying Vegas show to UK arenas from December. Tickets for the tour go on sale on Thursday 23rd February at 10am.  
The twelve date UK arena tour will kick off at the Hull Bonus Arena on the 28th November, taking in the Manchester Arena, Nottingham Motorpoint Arena, Glasgow Hydro, Cardiff International Arena, Bournemouth BIC, Liverpool Arena, Birmingham Resorts World Arena, Leeds First Direct Arena, Brighton Centre and two nights at the London Eventim Apollo.  
Throughout an illustrious six decades long career, Donny Osmond has earned 33 gold records: selling over 100 million albums becoming a worldwide music legend.  He has had 3 UK No 1s, 9 UK Top 10s, 13 UK Top 40s and spent a staggering 333 weeks in the UK charts.  Osmond made history by celebrating 6 decades in show business with the release of his album, One Night Only: a live album accompanied by a DVD of his sold-out UK tour in 2017.  
The 2023 tour marks 50 years since Donny and his brothers first performed in the UK.  Following Donny's solo success with Puppy Love (it stayed at No.1 for five weeks), their arrival provoked scenes of hysteria not seen since The Beatles the previous decade.   
After their first flight into Heathrow, Donny and his brothers were banned from further landings there when part of a balcony collapsed beneath the sheer number of fans who had shown up in a bid to get a glimpse of Donny. Gatwick wouldn't have them either, so Donny and his brothers had to fly to Scotland and take a train down to London.  
The reaction to Donny and his brothers  - that hysteria - was always greatest in the UK. And that is why Donny has always loved touring here.  
Donny said, "Performing in the UK has always felt like coming home and I'm thrilled to be returning for a tour at the end of this year.  I'm bringing the whole cast from my new Las Vegas production that highlights six decades of entertaining. I can hardly wait to revisit those Osmondmania memories with everyone. The only difference is, they're going to let me land at Heathrow this time."   
Donny has notably entertained a vast array of audiences with his varied career choices. He has starred on Broadway as Gaston in Disney's Beauty and the Beast; hosted two television series on British network television; and performed at the Concert for Diana, seen worldwide by more than two billion viewers.  
The critically acclaimed song Captain Li Shang's "I'll Make a Man Out of You" from the Disney film "Mulan" was sung by Donny. The song and Donny's singing of it received accolades from around the globe and ranks as one of the most popular and enduring Disney tunes of all time.  
Donny stunned audiences across America when it was revealed that he was the very first entertainer on the hit musical competition show "The Masked Singer." The show debuted in 2019 as the most well rated reality show in over ten years of American television. Donny finished the show runner-up to rap and R&B singer, T-Pain.  He later became a guest judge on The Masked Singer UK with Davina McCall, Rita Ora and Jonathan Ross. A mere 10 years earlier, in 2009, Donny was crowned Dancing with the Stars champion at the height of its popularity with an estimated 37 million viewers weekly.  
One of Donny's most notable appearances was his starring role as Joseph in Sir Andrew Lloyd Webber's Joseph and the Amazing Technicolor Dreamcoat, which broke records during its six-year run with more than 2,000 performances in the US and Canada.  In 2021, Donny returned to live theatre in the iconic Pantoland at the Palladium in London, receiving accolades and stellar reviews for his turn as The Wizard of Pantomime.  
Donny's recent album Start Again, marks a milestone 65th album for the performer. The 12 track Pop/R&B Start Again is Donny's first full length solo album in 7 years and is entirely co-written and produced by Donny. The album was directly inspired by Donny's own unique career journey of constant reinvention over the course of his six decades as a world recognised performer.  
Currently, Donny headlines his first ever solo residency at Harrah's Las Vegas. Donny's return to the stage is an exciting, energy-filled musical journey.  Guests experience a party as he performs his timeless hits, shares stories of his greatest show stopping memories and introduces brand new music in a brand new and completely reimagined song and dance celebration.  
Osmond's show has been quite a draw in Las Vegas. In fact, it was voted Best Production Show, Best Headliner and Best Family-Friendly Show for the 2022 Best of Vegas awards.  Donny will bring the whole cast from this  critically acclaimed Vegas show for this electrifying  UK tour. Disclaimer: Please note that Level 3 is accessible by stairs only. Some areas of Level 2 and Level 3 may not be suitable for those with mobility difficulties, those who are not comfortable with heights or those who experience vertigo. We anticipate you should receive your tickets at least 21 days prior to the event you are attending. Thank you for your patience.
U14s with adult 18+