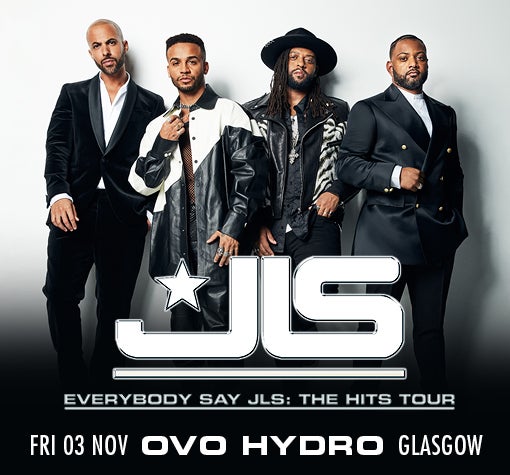 6:30pm Fri 3 November 2023
Event Information
OVO Live presale opens 9am Wednesday 01 March 2023General on sale opens 9am Friday 03 March 2023
JLS's 2021 comeback tour proved to be one of the hottest tickets for years, with phenomenal public demand seeing the reunited quartet having to extend their initial 16 show schedule to a 29 date tour of arenas across the UK and Ireland. It was an experience of a lifetime for the boys and their fans alike as JLS performed to a total of more than 350,000 people.  
And when something is so good, who can resist doing it again? The JLS heart will beat again as they today announce details of a huge UK and Ireland tour, the 'EVERYBODY SAY JLS: The Hits Tour'.   
JLS commented, "We couldn't be more excited to announce another UK and Ireland arena tour! Last time out was totally surreal and we've been eagerly awaiting the right time to do it all over again. Playing live and seeing our amazing fans is definitely the best part of being JLS!" Disclaimer: Please note that Level 3 is accessible by stairs only. Some areas of Level 2 and Level 3 may not be suitable for those with mobility difficulties, those who are not comfortable with heights or those who experience vertigo. We anticipate you should receive your tickets at least 21 days prior to the event you are attending. Thank you for your patience.
U14 accom by adult