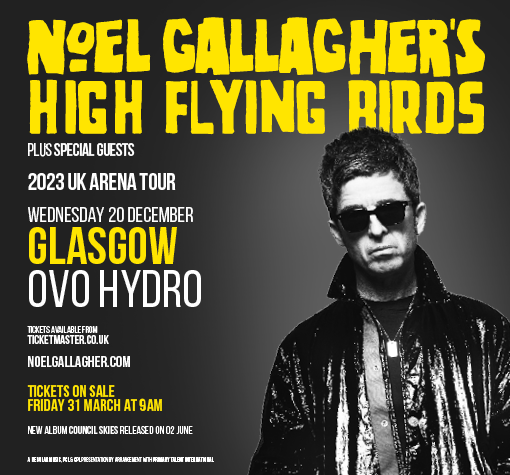 6:30pm Wed 20 December 2023
Event Information
OVO Live pre-sale access from 9am Wednesday 29 March
General on sale from 9am Friday 31 March
Noel Gallagher's High Flying Birds confirm 2023 headline arena dates across the UK, calling at Glasgow on 20th December. These arena dates follow an already busy summer schedule for the band playing a string of outdoor venues across the country.  
The tour announcement follows the release of 'Dead To The World', a remarkable new track taken from Noel Gallagher's High Flying Birds' eagerly anticipated fourth studio album 'Council Skies', due for release 2nd June.  
The epic 'Dead To The World' is "by some distance my favourite tune on the album," Noel says. "It has this film noir vibe. It's not like anything else I've ever done before. It's very melancholic, but I like that. I'm a Gemini – I'm as up as I am down, and the trick is to meet somewhere in the middle and turn that into music."  
'Dead To The World' is one of several songs on the album that boast strings arranged by the hugely talented Rosie Danvers, a long-time High Flying Birds collaborator. Noel says "Rosie gets what I do. Spending a weekend recording strings in Abbey Road… that's one of the great privileges in a musician's life. It sounds majestic."  
The upcoming UK live run will mark Noel Gallagher's High Flying Birds' first UK shows since performing on Glastonbury's Pyramid stage in June 2022, delivering a career-spanning set to one of the weekend's biggest crowds. The show was the culmination of a summer of acclaimed sold-out outdoor venues across the UK. Disclaimer: Please note that Level 3 is accessible by stairs only. Some areas of Level 2 and Level 3 may not be suitable for those with mobility difficulties, those who are not comfortable with heights or those who experience vertigo. We anticipate you should receive your tickets at least 21 days prior to the event you are attending. Thank you for your patience.
Standing - Over 14s / U16s with adult | Seats - Under 16s must be accompanied by an adult over 18